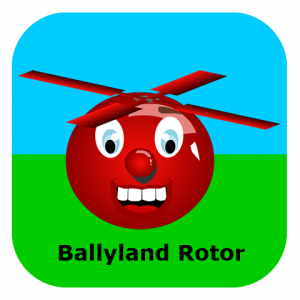 Some VoiceOver skills required
Difficulty: Moderate
Gestures: VoiceOver 'Rotor' gesture, single finger flick up and down, three finger flick left


Ballyland Rotor is a fun, educational iPad game that helps children who are blind or visually impaired to learn and practice the concept and gestures for the 'Rotor' in VoiceOver, Apple's built-in screen reader for iOS Devices.
The Rotor is a relatively advanced concept and gesture, and it is recommended to first play Ballyland Magic, which has demonstrated great value in supporting the development of blind children's foundation touch gesture skills and conceptual understanding of VoiceOver.
In the story of the app, Ballicopter, the little red helicopter, embarks on an amazing flight through Ballyland, and the Rotor gesture is used to change the unfolding of his engaging adventure. Ballyland Rotor not only supports children's understanding of the concept of selecting options and settings by way of the Rotor: it also offers them a safe platform to explore and practice the different ways the Rotor gesture can be performed. A special learning tool was developed with this app, which you can 3D print from a free downloadable file.
Ballyland Rotor app includes a short tutorial video. This is meant for people who support the child, so that they can provide better learning support and guidance on the different ways the Rotor can be performed.
Go to the tips and instructions.
Access the tips and tutorial for educators who are blind.