Let CosmoBally be your guide on Sonoplanet.
Sonoplanet was recently discovered by CosmoBally.
On this distant planet, everything revolves around sound, including sonification!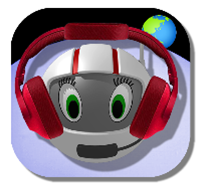 'Ballyland CosmoBally on Sonoplanet' is an interactive sonification app currently under development. This app is being developed by Sonokids to introduce young students who are blind or vision impaired to concepts and principles of sonification through gamified learning.
To learn more about sonification, read the Sonoblog.
The goal is for sonification concepts to support early learning in the classroom, and to prepare students for the use of sonification in future access to science subjects and independent scientific research.
The project also aims to gain insights into the learning progressions and prerequisite skills of young students to effectively learn sonification skills. The project is supported by South Pacific Educators in Vision Impairment (SPEVI Inc.).
Just like the three Ballyland Code apps do not teach a specific programming language (students develop computational thinking and understanding of essential, generic concepts and principles of computer programming which build a bridge to whatever programming language they will learn next), similarly, the new sonification app aims to build foundation skills and conceptual understanding of sonification.
For all questions, to be notified of the release of this app, or to express you interest in assisting with testing the app during the development process, please contact Sonokids via email: support@sonokids.org.