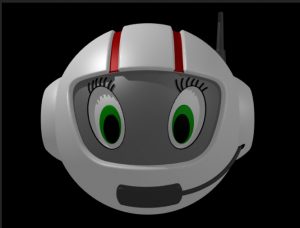 Explore Space and Sonification with two free CosmoBally apps for iPad and Android devices
CosmoBally on Sonoplanet
Get 'CosmoBally on Sonoplanet' and learn about Sonification in 4  educational games. On Sonoplanet everything is represented in sound, so "Open your ears!" For educational information and to complete the user survey, visit the Sonoplanet website.
Download CosmoBally on Sonoplanet for iOS iPad here
Download CosmoBally on Sonoplanet for Android tablets here.
Ballyland CosmoBally in Space.
Join CosmoBally on her travels through the Solar System with 'Ballyland CosmoBally in Space'.
Download Ballyland CosmoBally in Space for iOS iPad here.
Download Ballyland CosmoBally in Space for Android here.
The Bonus Game and Song of Ballyland CosmoBally in Space reinforce the order of the planets from the Sun.
Click here to download the lyrics of Ballyland CosmoBally Planets Song
Song credits: Composition: D. Damsma , Arrangement/Artist: J. Norgaard, Lyrics: P. Damsma.
Listen here to the Ballyland CosmoBally in Space Planets Song (©2019 Sonokids Australia).
About CosmoBally
Sonokids® CosmoBally™ was born and raised in Ballyland™. She is an astronaut, in a ball-shaped, white space suit and helmet (with antenna and mic). She has green eyes. She flies into space! Her signature sound is "C-B" in morse.
Her friends back in Ballyland are very proud of CosmoBally, or "CB" as they like to call her.
CosmoBally has always worked really hard at school to get where she is now.
The Ballylanders have always supported CosmoBally in her plans for her career.
And they follow her adventures in our Solar System with great interest.
CosmoBally never forgets where she came from. She sends her friends in Ballyland special messages. She tells them about specific things she discovers in space that she knows they would really like.
And now she has discovered Sonoplanet, where sonification has turned everything into sound. Open your ears!