The 3D printed model of Babballoony© is a valuable learning tool that enables a child with vision impairment to get tactually familiar with Babballoony©, one of the main characters in the Ballyland game apps. Tie a short piece of rope around the bottom part of Babballoony to enhance the impression of him being a balloon.
Sonokids offers a FREE license to print and download the file.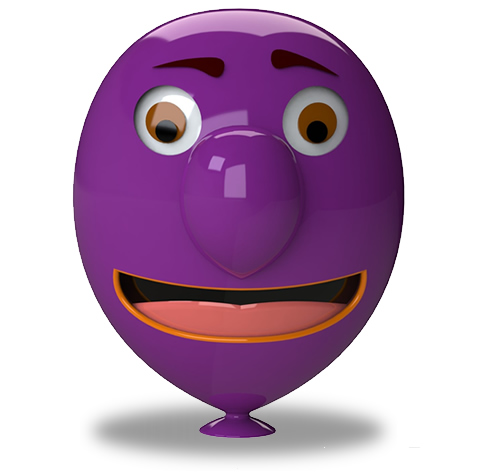 I acknowledge that I have read and understood the Ballyland Disclaimer and License Conditions.
Disclaimer and License Conditions
Note that this is a learning tool, not a toy. Children should be supervised with the model at all times. Not suitable for children under 3 years of age. Sonokids does not accept any liability for the print quality of the 3D printed model. Sonokids does not accept any liability for any personal or material damage as a result of the 3D printing or further processing and/or use of the learning tool, or any damage to or originating from the learning tool or the production process, the processing, assembling and painting as suggested by Sonokids. Printing, handling, assembling and painting is done at Licensee's own risk.
All copyright of the 3D print model of Babballoony© remains with Sonokids®.
Sonokids provides with you a free license that allows you to print the 3D model, or to have it printed by a third party, under the strict condition that you don't resell the file, or resell the printed model.
A license to print explicitly does not give the licensee the right to sell the printed 3D model for money. Schools or other educational organizations may also print the 3D model as a learning tool for multiple students, as long as they provide the tool for free, or at real cost for printing, materials etc.
By downloading the .stl print file of Babballoony you confirm that you have read the disclaimer and that you agree to the conditions as set out above.
Download here licensed file package to 3D print one 3D model of Babballoony©:
DOWNLOAD ↓ - I acknowledge that I have read and understood the Ballyland Disclaimer and License Conditions
3D Printing
The quality of your printed model depends on the quality of the used 3D printer, the printing process and the choice of materials.
Printing costs are NOT included with the file, and may vary. If you don't own a 3D printer yourself, you may find one at a school or support organization for the blind or visually impaired, a library, or a nearby 3D print shop such as at 3D Hubs