Sonokids' educational game apps for mature learners are important learning tools that provide an immersive, interactive environment to explore and learn essential digital skills.
VO Lab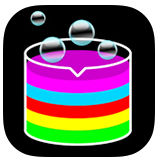 No VoiceOver skills required
Difficulty: Moderate
Gestures: Finger drag, double tap, single finger flick left/right, three finger flick left/right.


VO Lab provides beginner learners of VoiceOver, Apple's built-in screen reader on iOS Devices, with opportunities to gain the required foundation skills to use the iPad or iPhone independently. VO Lab is designed for adolescents (and older users) and is both entertaining and educational.  Read more about VO Lab.
The power and benefits of gamified eLearning are generally acknowledged, and these high quality, accessible game apps specifically target the development of important iOS VoiceOver skills.
While very different from a standard tutorial, spoken instructions and feedback are provided throughout the games. This and the fact that the apps provide a risk-free learning environment, will ensure your feeling confident in actively and independently exploring the outcomes of your touch gestures: the best motivator for learning.