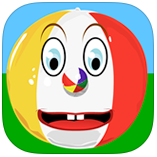 No VoiceOver skills required
Difficulty: Beginner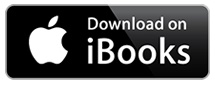 Stay Still, Squeaky! is an accessible, interactive Ballyland story. It is the perfect, fun and safe first introduction to an iPad for young children with vision impairment and their sighted friends and siblings. Squeaky, the bouncy Ballylander, needs to stay clean before a visit to his grandmother. Children will easily connect with this fun story, and as they interact with it, Squeaky gets dirtier and dirtier! A fun, audio based eBook, with great sound effects, and bright, simple images and animations.
Download free 3D file to make a 3D tool of Squeaky so that your child can tactually explore his features
Download free Squeaky coloring page file. To make it into a raised line drawing, print it with a Piaf, using swell paper. This will enable children to feel what Squeaky looks like.
Tip for blind parents or educators:
The eBook is self-voicing, so please shut down VoiceOver before opening the eBook. To exit the eBook, quickly left-swipe-and-tap to open the menu, and then switch VoiceOver back on to provide navigation support.
Special Features
Finalist in the 'Most Accessible Children's App' category of the 2015 'Apps for All Challenge' awards, Australian Communications Consumer Action Network.
Perfect for use in an Inclusive Early Learning environment
To move the story along, the child only needs to use very simple, 'informal' gestures: touch and swipe
Safe gesture support for independent use by young children who are blind or have low vision
Suitable for blind children as young as three years old
No reading skills required
Does not require the use of VoiceOver or any experience with touch screen interaction
Each page has its own soundscape
Simple and colorful line images with clear contrast
No time limit to respond
Theme can be easily tied in with real life activities and curriculum